S2K Commerce - Shopping Cart
Actions
S2K Commerce - Products Dropdown
Actions

About Premier Kites & Designs
About Premier Kites & Designs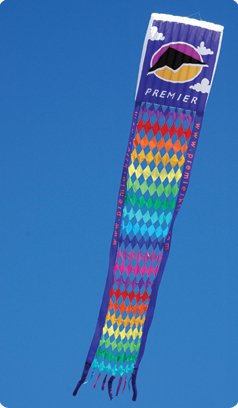 Established in 1983, Premier Kites & Designs, a division of Primus Inc., is a leading kite, garden art and home and garden décor manufacturer. We pride ourselves in our quality product lines. We offer hundreds of kites and accessories ranging from entry-level single-line kites for children and families to highly sophisticated flying wonders for the kite enthusiasts. Our Premier Collections feature kites award-winning designs from world-renowned American and European designers that are unavailable anywhere else.
Premier's WindGarden line is equally impressive. We feature hundreds of garden spinners, wind spinners, and specialty banners made with fade-resistant SolarMax® or Suntex fabric for unmatched durability. Featuring Premier's heavy-duty hardware, patented low-friction hubs, and superior craftsmanship, WindGarden spinners are colorful, durable, moving works of art.
Our Accent Home & Garden line features Premier's revolutionary Brilliance technique, which employs state-of-the-art dye sublimation printing with fine embroidery top stitching. Our beautiful Brilliance flags have reinvigorated the flag industry.
From the beginning, Premier has focused on producing the highest quality kites, home décor and garden art in the world. Premier has won awards for Manufacturer of the Year, Best Product and Best Catalog Design from the Kite Trade Association International, and has received the Parents' Guide to Media Award in the Classic Toy category for our Parafoil-2 kite.
Premier products are available through our family of distributors and marketing representatives to the kite, toy, gift, and garden industries. We are a fast-growing, privately-owned company and we remain determined to provide our customers with the highest quality products, unparalleled customer service, and reliable, speedy delivery.